Minipack®-torre undoubtedly stands out among the leading food packaging machine manufacturers. The wide range of products, as well as the high-level partnerships and the continuous drive towards innovation have turned it into one of the leading companies in the sector.
In this article, we will look at:
Why minipack®-torre is among the best food packaging machine manufacturers
Minipack®-torre has built its success on some key pillars that still make it one of the most reliable packaging manufacturers in the world today. 
Its main strengths include:
In-house manufacturing: all packaging machines are 100% Made in Italy, a guarantee of quality and safety, and are entirely manufactured in-house;
Constant innovation: minipack®-torre strives every day to research ever more innovative and technologically advanced operating systems capable of assuring high-quality and reliable products and performance. The company has also designated a whole department to the Research and Development activity, the minipack-LAB, set up in order to ever better address customers' diverse needs;
High-level partnerships, such as that with Schneider Electric, which provides extremely high-quality electronic components for our top-of-the-range packaging machines;
EU Certifications: all our food packaging machines are certified according to European standards, among the most stringent in the world.
The before and after sales service of minipack®-torre is also particularly efficient, indeed:
All machines are installed in Italy and abroad with the support of our authorised dealers;
Experienced technicians are always on hand to address various needs;
A remote support service is provided, to act promptly anywhere in the world;
It is possible to make use of a pre-testing and packaging test service.
Minipack®-torre food packaging machines
In addition to the advantages described above, minipack®-torre stands out among food packaging machine manufacturers also due to its versatility – indeed, it offers a wide range of machines,perfect to preserve different products in the best possible way, intended for many sectors of the food industry.
The main ones are vacuum, flow-pack and shrink-wrappingmachines. Let's look at all their features in detail.
Vacuum food packaging machines
Vacuum packaging machines are perfect to preserve in utter safety the freshest food, that is why they are a favourite with restaurants.
Indeed, thanks to the vacuum packaging technique, the product is completely isolated from the outside and all air is extracted so that there is no risk of contamination.
Minipack®-torre offers various types of vacuum food packaging machines:
Wheeled or countertop vacuum packaging machines for the catering industry: compact, easy to use, technologically advanced and very handy, they can be conveniently placed even in very tight spaces. These two categories include the machines of the XP line, CE/ETL/NSF certified and capable of printing a label with all the most important information in the packaging process.
In the photo: countertop vacuum food packaging machine MVS41 XP and wheeled packaging machine MVS50 XP
Vacuum packaging machines for industrial packaging: In order to meet the needs of the best industrial laboratories, minipack®-torre has developed a new, specifically designed line: SWING. Featuring extreme packaging speed and efficiency, the machines in this range are constructed in stainless steel, a guarantee of safety and resistance over time, as well as all being CE certified.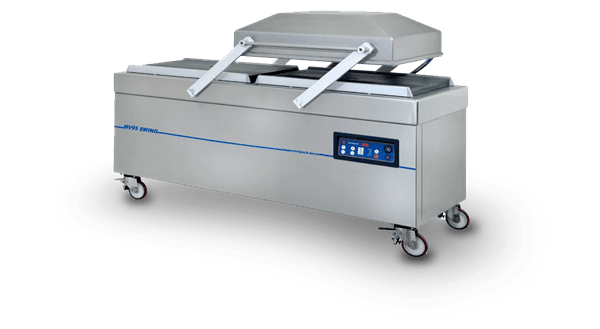 In the photo: industrial vacuum food packaging machine MV 95 INOX
Flow-pack food packaging machines
Flow-pack machines are the ideal food packaging machines for baked goods, snacks, chocolate, sweets etc.
The special feature of this packaging method is the ability to produce airtight packages that are very appealing in terms of aesthetics.
Flow-packs are made with two cross-wise and one lengthwise seal and feature a great many advantages, including:
Very high packaging speed;
Extreme ease of maintenance and cleaning operations;
High technological level, thanks to the presence of a PLC panel with 7'' Touch-Screen;
Compact-sized so they can be placed even where there are space constraints;
Option to produce customised packages, as it is possible to print lettering and logos on the package;
Great resistance and duration over time.
In the photo: flow-pack food packaging machine MINIFLOW 600
Food shrink wrappers
Finally, the food packaging machines manufactured by minipack®-torre also include shrink wrappers. 
These machines are used especially to package short-lived food and produce such as fruit, vegetables or meat intended for supermarket shelves and they feature high simplicity of use.
Fitted with a control display, shrink wrappers make it possible to monitor the entire packaging process with the utmost ease, as well as assuring significant energy savings.
A shrink wrapper packages the product in a special film which is subsequently exposed to a heat source. The process is over when the film has perfectly adhered to the product. 
Minipack®-torre offers as many as three lines of heat shrink food packaging machines: FM and REPLAY, MODULAR and PRATIKA.
The following video shows model Pratika 56 MPE X2 in operation, packaging meat for supermarket shelves.
Find out more about the reasons that make minipack®-torre one of the best food packaging machine manufacturers.