How are fish products packaged? Before finding out, we must consider that fish products can reach the counters of shops, delicatessens, supermarkets or fishmongers in 3 different ways:
fresh, ready to cook
cooked, ready to eat
frozen.
Packaging techniques must therefore consider these 3 presentation modes, and the packaging must perform precise functions.
Packaging for fish and fishery products
It is of fundamental importance how fish products are packaged. The packaging must primarily slow down the natural degradation of the product, and thereby extend its shelf life. It must then release small quantities of water vapour externally, to avoid excessive food dehydration.
It is also essential for the packaging not to transmit unpleasant odours or flavours to the product, nor potentially dangerous substances for the consumer. Fourth but not least, the packaging must be pleasant to look at.
For these reasons, the most used method of packaging for fish and fishery products is vacuum-packed. Preventing the highly perishable product from coming into contact with oxygen stops oxidation from forming and the storage period is increased. By also adding a step in a heat-shrinking oven, it is possible to create packaging that is:
aesthetically pleasing
clean and resistant
that take up minimal space to better organise store shelves.
Our machines for packaging of fish and fishery products
minipack-torre offers various machines, for vacuum-packing and heat-shrink wrapping, suitable for packaging of fish and fishery products. The full version of the very vast range is available on our website.
DISCOVER THE PACKAGING MACHINES FOR FISH AND FISHERY PRODUCTS
Here we suggest a few sample models for both types of packaging machines.
Vacuum chamber packaging machines
The range of vacuum packaging machines is the most vast in our offer. They are mostly vacuum chamber machines, i.e. the most professional on the market as they are capable of reaching a vacuum level of 99%.
For ideal packaging machines in the fish sector are countertop machines, with sealing bars of different lengths based on the size of the product.
The smallest size is the 31 cm sealing bar, available in 2 versions:
MVS31X, basic version
MVS31XP, with tracking of the vacuum process and built-in labelling machine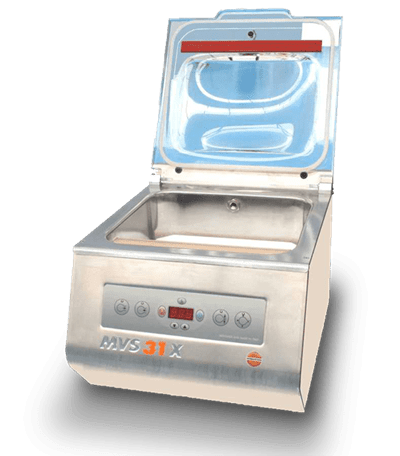 The average size is the 35 cm sealing bar, also available in the 2 versions:
MVS35X, basic version
MVS35XP, with tracking of the process and labelling machine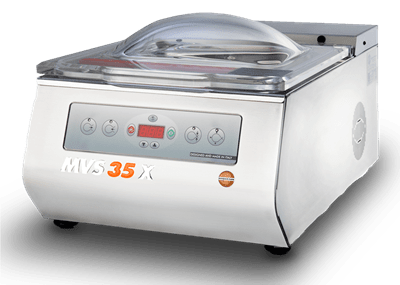 The largest size is the 45 cm sealing bar, also in the two versions:
MVS41X, basic
MVS41XP, with tracking of the process and labelling machine.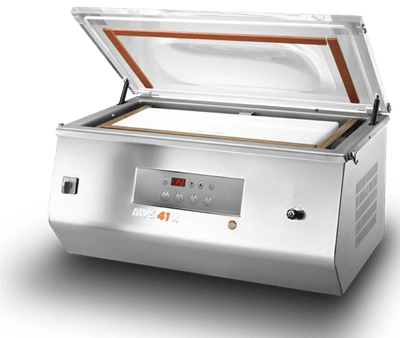 Shrink wrapping machines
To complete the packaging with a step in the heat-shrinking oven, we recommend two stainless steel models. In fact, stainless steel is the most suitable material when processing meat or fish, since its physical structure minimises the possibility of bacteria proliferation, simplifying and optimising cleaning and hygiene.
SYNTHESIS INOX is a wheeled manual heat-shrinking machine, with a packaging plate of 530x390 mm. It is simple to use and maintain and it is always sparkling clean. For maximum hygiene, there are no motors, fans or felt on the bottom of the chamber. Lastly, the forced ventilation system prevents overheating and ensures significant energy savings (up to 20%). Sealing and shrinking occur simultaneously.
Alternatively, MODULAR INOX + TUNNEL is a semi-automatic packaging machine, with L-shaped sealing and a 540x400 mm packaging plate. Flexible, practical and fast, it allows many customisations of operational programs, thereby simplifying every packaging process. It must be completed with the 50S shrinking Tunnel.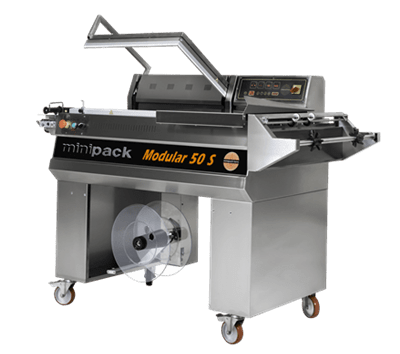 These are just some of our offers for packaging of fish and fishery products. If you want to know more, ask for an individual consultation or a free, non-binding packaging test.