Are you looking for a vacuum sealing machine? Minipack®-torre offers a range of professional vacuum sealing machines for truly impeccable results. A specific range with state-of-the-art features is available, according to the requirements:
The MVS series: manual vacuum packaging
The MVS series includes chamber vacuum sealing machines, specifically designed for restaurants and delicatessens. This is a range of products designed in collaboration with international chefs, and fully tailored to the needs of the catering industry.
These are the main advantages of these vacuum machines:
The compactness of the machines allows the overall dimensions to be minimised. The counter vacuum machines are particularly suitable for those who have small premises.
The control panel gives access to a range of useful settings, such as choosing the most suitable vacuum program for the application in question, easily setting the parameters and saving them in the memory for later use. In addition to the standard vacuum packaging options, there are also programs for sous-vide cooking.
Some models, marked with XP, include the option of automatically printing labels with all the details of the packaging operation. There are several advantages in this technology: find out in this article.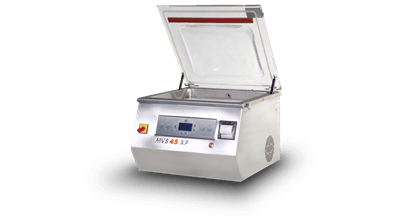 The SWING series: automatic vacuum sealing machines
The SWING series is designed for medium or large-sized food labs that want to automate the packaging processes. This is a series of fully automatic vacuum sealing machines, distinguished by their high speed and reliability. Machines with sealing bars of different sizes are available, ranging from 450 to 1100 mm, with different power installed.
All made of AISI 304 stainless steel, the SWING line packaging machines are equipped with a digital display that allows you to set the desired packaging programs and store up to 10 different programs.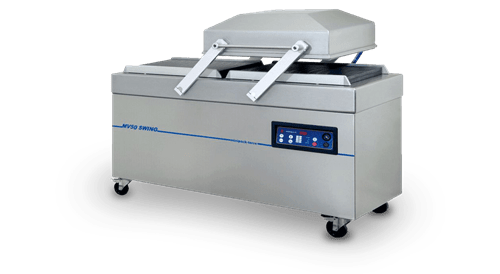 EVAC 65: large packaging
EVAC 65 is the perfect vacuum sealing machine if you have to pack large products, especially meat. This automatic machine is easy to use, fast, and highly intuitive thanks to the built-in touch display that provides access to numerous features and packaging programs. Another advantage is its versatility: In fact, EVAC 65 allows you to vacuum pack with bags of different quality, thickness and size.
A highly innovative element that accompanies this vacuum sealing machine is the remote control option: through an App you can view the packaging machine's display on your tablet or smartphone, and access all the available settings. And not only: the monitor also allows you to request remote assistance, collect data on production volumes, and detect any operational discontinuity.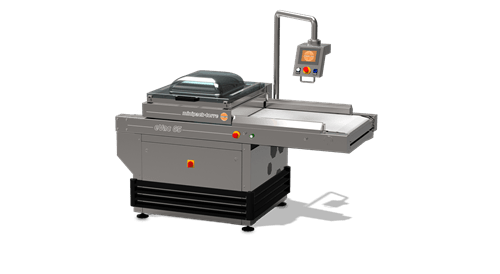 Do you want to see other vacuum packaging solutions?
Find out more about the minipack®-torre vacuum machines here!