In this article, we will look at:
Why use a butcher's vacuum packing machine?
A butcher's vacuum machine is extremely useful when you want to preserve meat for long periods of time without taking the risk of compromising its organoleptic and nutritional qualities. 
In fact, thanks to a vacuum packaging machine, the product is packed hermetically by removing all the air, thereby creating a full vacuum so as to protect the meat from microbes and bacteria that are present in the air. 
The vacuum is also used for sous-vide cooking, a technique that makes meat particularly tender and cooks it evenly.
Minipack®-torre vacuum packaging machines are reliable and technologically advanced and are divided into:
Tabletop vacuum packaging machines: practical and compact, excellent to be placed anywhere without creating clutter.
Trolley version vacuum packaging machines: fitted with wheels to be easily moved.
Let's now see some models by minipack®-torre.
Tabletop vacuum packaging machine
A tabletop vacuum packaging machine is perfect for packaging food products and therefore for all businesses, such as restaurants, delicatessens, supermarkets, etc. and obviously, butchers.
Let's see a few recommended models:
MVS31 XP: this model of the XP range (with CE/ETL/NSF certification) allows you to keep track of the vacuum degree created by the machine. In fact, this packaging machine allows you to print labels with all the most relevant information regarding the packaging that has just been carried out.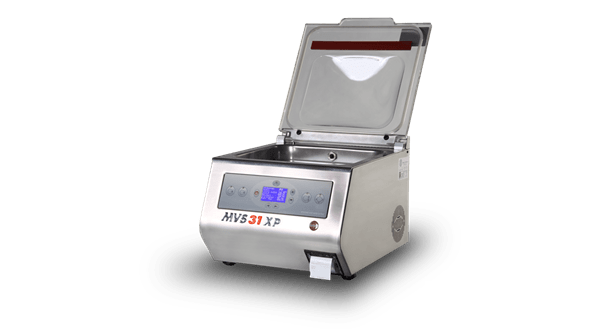 MVS41 XP: this vacuum packaging machine has a 626 mm front sealing bar and a 310 mm side sealing bar. This packaging machine is also part of the XP range and has a fully user-friendly control panel that allows you to quickly set any step and helps you understand when technical assistance is required. It is one of the most suitable machines for businesses, such as small and medium-sized butchers.
Trolley version vacuum packaging machines
A trolley version vacuum packaging machine is larger than the tabletop versions and has practical wheels to move the packaging machine wherever you want. This type of vacuum packaging machine is also very common in the main food and catering businesses, including butchers.
Here are a few of the best minipack®-torre models:
MVS45L XP: this vacuum packaging machine has a 450 mm sealing bar. Its main features certainly include the innovative control display from which you can manage the packaging settings rapidly and easily. This packaging machine also allows you to carry out a preliminary diagnosis of technical issues and promptly report the need for intervention. Lastly, this model recognises the macro product categories and adapts its performance to the type of food that must be packaged.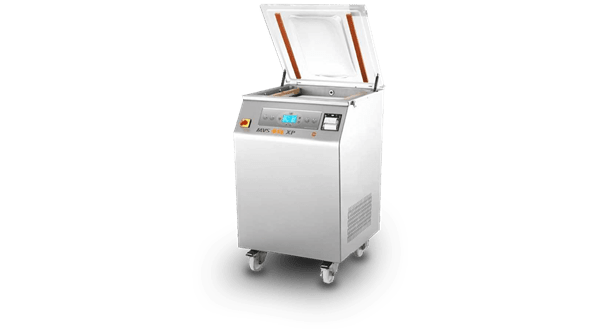 MVS52 XP: this vacuum packaging machine model has 530 mm sealing bars and also allows you to print the main information about the packaging process and use the practical control panel to set the various programs. This machine automatically sets up standard packaging operations based on the selected subcategory, which further facilitates the operator's work. Like the previous machine, it is ideal for butchers and butchery or large meat processing workshops.
EVAC 65: the technological novelty for preserving meat
EVAC 65 is the new automated vacuum packaging machine designed specifically for meat, therefore, perfect to be used in a professional butcher's shop. 
This packaging machine has several features, in fact:
it can pack bags of different quality and thickness and in different sizes, thanks to the differentiated cycles;
it can guarantee high productivity since it is automatic;
it has a colour Touch Screen display for easy and intuitive programming;
the fully electric movement allows you to benefit from significant energy savings;
it can be placed anywhere without needing a compressor or air line;
it has a fully transparent cover to clearly see the product being processed;
the STAINLESS steel structure guarantees excellent hygienic safety and quality standards.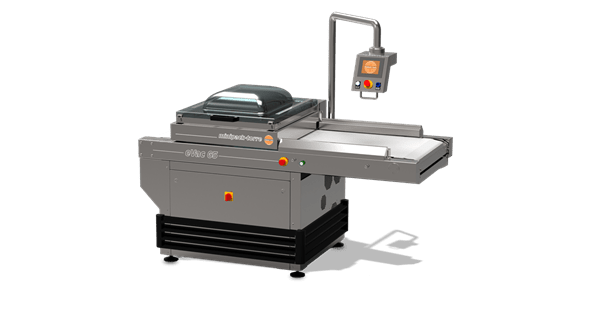 Do you own a butcher's shop and are you looking for the perfect vacuum packaging machine for your business?