The heat-shrink packaging machine is a very versatile type of skin packaging machine that is suitable for packing various types of items. Let's find out how it works and which sectors it can be used for.
What is a heat-shrink skin packaging machine and how does it work?
Heat-shrink packaging machines are a type of very particular skin packaging machine as it combines vacuum (not total) with heat-sealing.
Thanks to this skin packaging machine, the product is packed in a special film which, thanks to a heat source, shrinks until it adheres perfectly to the product, thereby creating a kind of vacuum.
The end result is a very safe but also practical package, since the heat-shrink film protects the product perfectly from dust and external agents without sealing it hermetically, thereby making it very easy to open.
Which are its advantages?
A heat-shrink skin packaging machine is the ideal solution because it represents the perfect balance between safety and aesthetics. Specifically:
It creates light, resistant and aesthetically pleasing packages;
It is cheaper than other skin packaging machines;
It significantly reduces energy consumption;
It is very simple to use
Minipack®-torre offers various models of automatic heat-shrink packaging machines that are easy to use and fitted with a control display to monitor the packaging process very easily.
Sectors of use and minipack®-torre models
Minipack®-torre offers various models of skin packaging machines based on the sector of use – let's discover them together.
Large retailers
Large retailers pay close attention to the aesthetics of products, regardless if they are food or not, as they are displayed on supermarket shelves.
Therefore, the packaging machines for Large Retailers must be able to produce aesthetically flawless packages.
One of the most suitable models for this sector is the MODULAR 50S INOX, which is semi-automatic and made of stainless steel and therefore, excellent for compliance with hygienic-sanitary standards, and is fitted with a 540X400 mm sealing bar.
Baked products
Just like all food products, the packaging of baked goods must be particularly accurate so as to ensure the properties of the food are perfectly preserved.
This category includes bread, breadsticks, focaccia and pizza, but also desserts, biscuits and dry pastries, food that is particularly prone to easily become dry and harden. This is why it is important to make sure they are packed as best as possible.
This is how a minipack®-torre heat-shrink skin packaging machine works.
Specifically, one of the most suitable heat-shrink packaging machines for this sector is the MEDIA model: an angular semi-automatic skin packaging machine with L-shaped sealing, an integrated tunnel fitted with a speed, height and temperature adjustment system of the pack and a 540x400 mm sealing bar.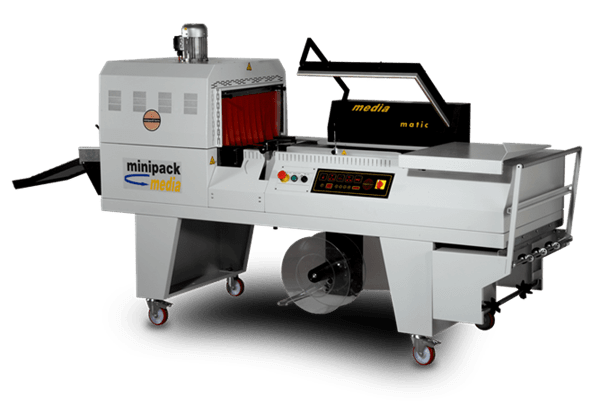 Textile sector
This sector includes launderettes, hotels, wellness centres and spas and the typical products to be packed are sheets, towels, tablecloths, etc.
In this case, the requirements of the packaging machines for textile products must fulfil packaging speed and rapid format changes.
The MODULAR 50 S skin packaging machine is excellent for the textile sector. This angular model is semi-automatic, with L-shaped sealing and a 540x400 mm sealing bar.
It is a packaging machine that can work perfectly with any material, it has an electronically controlled sealing system and advanced safety devices.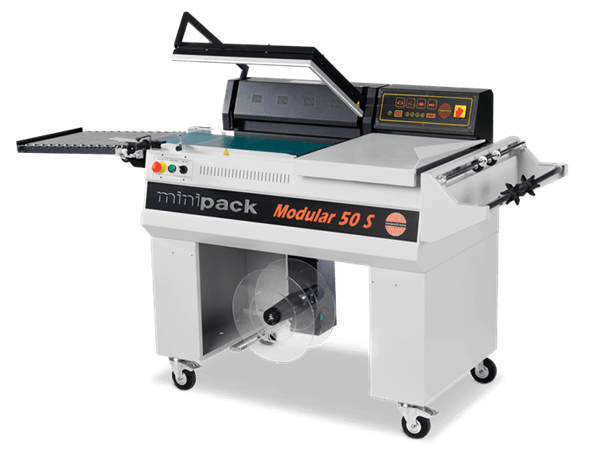 Pharmaceutical sector
The packaging machines for the pharmaceutical industry must strictly comply with all the necessary health and hygiene standards. Furthermore, it is important to remember that pharmaceutical products are extremely delicate from their packaging and storage aspects and therefore, it is necessary to rely on a machine that is made of the right material.
The PRATIKA 56 MPE X2 INOX model is perfect for this sector. It is an automatic skin packaging machine made of stainless steel and therefore, very resistant to microbes and bacteria growth.
This packaging machine is fully electrical and servo-assisted with a 600x400 mm sealing bar.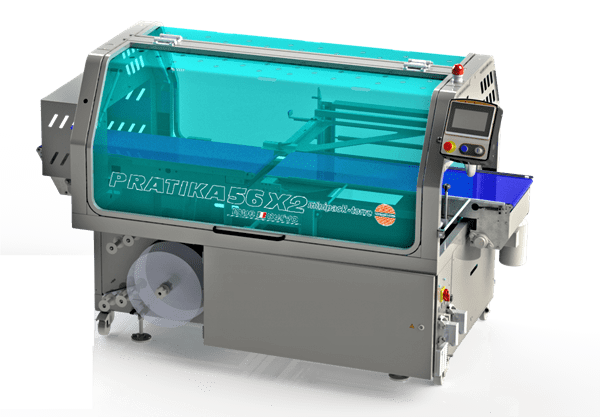 Industrial sector
The industrial sector requires very specific requirements: speed, efficiency and energy savings. For this reason, it is very important that in this case, the industrial packaging machines are automatic, for the production process to be faster and relieve the operators of the heavier tasks.
Therefore, the PRATIKA 56-T MPS model is perfect for this type of purpose. It is an automatic, fully electric and servo-assisted, continuous sealing skin packaging machine.
This model is particularly suitable for its speed – in fact, it can pack up to 3,600 pieces per hour.
See it running here:
Minipack®-torre has other models of skin packaging machines that are perfect for all these sectors. Contact one of our operators for more information.