Eating fresh vegetables is undoubtedly very healthy for the body, but indeed its freshness risks leading to early deterioration of the produce, unless it is stored adequately. That is why it is essential to use professional tools for packaging vegetables, in order to protect all their precious properties in the best possible way.
In this article, we will look at:
What are the best methods for packing vegetables
With regard to packaging vegetables, the two best preservation methods are certainly vacuum packing and heat shrink film.
Both methods are indeed indicated for food packaging in general as they are perfectly capable of preserving all the organoleptic properties of produce, without running the risk of contamination from external agents that might impair the integrity of the food or endanger consumers' health.
Although both packaging methods have the same purpose, however, they cannot always be used in the same situations and in the same sectors.
Let us look in more detail when is it more appropriate to use shrink wrapping machines and when to use vacuum ones.
When to use heat shrink film for packaging vegetables
First of all, let's cast a light on what it means using shrink wrapping machines to store vegetables.
The main features of heat shrink film are aesthetics and convenience. Its operation is very simple: 
First of all, the product is packaged in specific film;
After that, it is exposed to a heat source that will shrink the film, so that it perfectly adheres to the produce;
The result will be a safe and aesthetically pleasing package, that is why one tends to choose this method especially in supermarkets, where the vegetables are placed on trays in special display shelves.
Finally, the heat shrink film protects the vegetables from large external agents, but does not seal them hermetically, which is why it is still recommended to eat the vegetables without waiting too long.
Some minipack®-torre machines for shrink wrap packaging
Let us now look at some models recommended by minipack®-torre, which offers as many as three lines of shrink wrapping machines: FM and REPLAY, MODULAR and PRATIKA.
FM76A EVO-A: the FM includes a range of shrink wrapping machines with chamber especially suited for small businesses. The features of the various models are:

compact size;
ease of use; 
great sturdiness;
high technological level;
ability to produce aesthetically pleasing packages.
All these features are also obviously found in model FM76A EVO-A, an automatic shrink wrapping machine with 540x390 mm sealing bar, perfect for packaging vegetables. The presence of a specific electronic board and double display, also assure convenience, reliability and speed of packaging.
Here's how it works:
MODULAR 50S INOX: the MODULAR offers angular sealers perfect to pack fruit and vegetables, which feature an electronically controlled sealing system to make packaging even safer. Both automatic and semi-automatic models are available, such as MODULAR 50S INOX. Fitted with a 540X400 mm sealing bar, this packaging machine makes it possible to customise the operating programs, in order to simplify packaging operations as much as possible and optimise production capacity.
PRATIKA 56 MPE X2 INOX: the PRATIKA line is the most advanced one from the technological point of view. It includes all automatic models divided into angular and continuous sealing ones. The packages made by this machine have the highest quality without excessive energy waste. The PRATIKA 56 MPE X2 INOX model is made in stainless steel for even higher safety, it is fully electrical and servo-assisted and has a 600X400 mm sealing bar. The presence of a double hatch makes this packaging machine very versatile, indeed work can be carried out on both sides, it is technologically advanced while being very easy to use.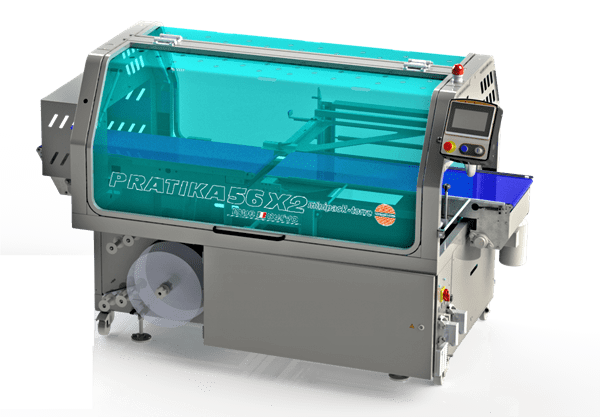 Find out about all the shrink wrap models for packaging vegetables!
When to use vacuum packaging for vegetables
While shrink wrapping is especially used by supermarkets, vacuum packing machines are undoubtedly the ones that restaurants prefer.
In particular, the work top and trolley models are the most used in this sector and are a winning solution for packaging vegetables even for prolonged periods of time.
The secret of the success of this type of packaging machine lies in the degree of vacuum that these machines are able to create. By extracting all the air around the product, preservation is indeed optimal as any trace of contamination is removed.
Some minipack®-torre machines for vacuum packaging
Minipack®-torre offers several convenient and reliable models of vacuum packing machines, perfect for storing vegetables. Let's look at some of them.
MVS31 XP: this is a very handy and compact vacuum packing machine, indeed it can be placed anywhere, even where there are space constraints. With a 310 mm sealing bar, this model belongs to the XP range, certified CE/ETL/NSF. In addition to being very simple to use despite its many features, this packaging machine has a panel that allows you to quickly set up all operations, also helping the operator to plan any technical assistance. Finally, the high technological level of this model makes it possible to keep track of the vacuum created during packaging.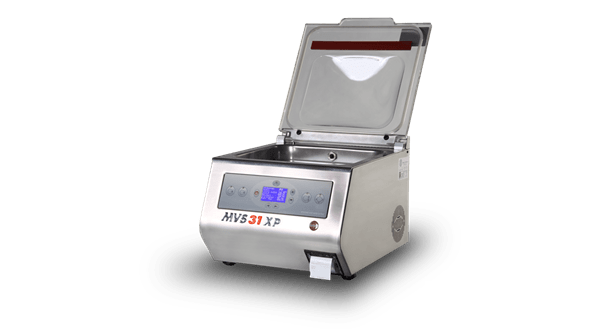 MVS52 XP: this wheeled packing machine can be conveniently wheeled around the kitchen or food shop. The sealing bar measures 530 mm and also in this case it is possible to easily keep track of the vacuum created during the packaging process. Finally, at the end of each process, there is the option of printing a summary label with all the most important information on the operation.
MVS52 DV XP: the special feature of this model is the presence of a double tank for even more effective performance. This is another highly technological model and like the previous ones, it has a panel and display to make the operator's work as easy as possible. What is more, the innovative easy-pulse feature makes it possible to save the settings for even easier and quicker operation.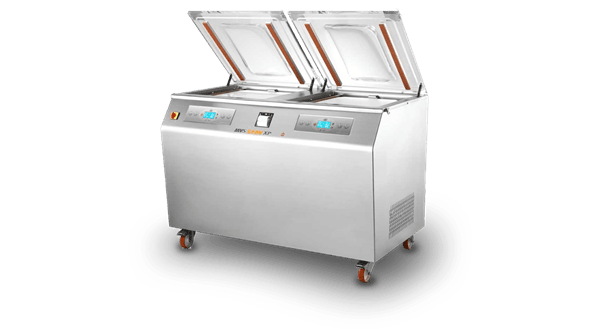 If you are not sure about the most suitable model for packaging vegetables for you, ask our experts.