Food storage is an aspect that no catering business can ignore because, if not handled properly, it could cause serious health problems for its customers. This is why it is essential to rely on a good restaurant vacuum sealer, such as those offered by minipack®-torre. 
In this article, we will look at:
Restaurant countertop vacuum sealer models
Vacuum packing machines are not all the same: there are models that are more suitable for the catering world, others for the industrial sector.
One type of very efficient restaurant vacuum sealer signed minipack®-torre is the one with chamber which in turn can be divided into table-top and trolley machines.
A countertop restaurant vacuum sealer is characterised by its compact dimensions. The advantage of these packing machines is that they can be positioned anywhere and are therefore very practical. In addition to this, another great quality of a countertop vacuum sealer is its high level of technology. It has a control display with a control panel that allows you to set up to 10 customised programmes.
MVS31 XP
The vacuum sealer for restaurants MVS31 XP is a table-top packing machine with a 310 mm sealing bar and a very innovative feature: the ability to keep track of the packaging process. In addition, this machine allows labels to be printed on which all the most important information of the packaging operation can be found.

MVS41 XP
The vacuum sealer for restaurants MVS41 XP features a 626 mm frontal and 310 mm lateral sealing bar. This model is also technologically advanced, as it is possible to obtain tracking of the packaging process and print labels with all the relevant information.
This model is also part of the XP series and is therefore CE/ETL/NSF certified.
MINI COOK 15
The sous-vide cooking technique is very popular in the restaurant world because it allows the organoleptic properties of the food to be enhanced.Thanks to sous-vide cooking, it is possible to achieve:
weight loss of the food during cooking;
several portions with the same amount of raw material.
The vacuum sealer for restaurants MINI COOK 15 has been specifically designed for this purpose. This packing machine is equipped with a display to show:
cooking time;
water temperature;
core probe temperature detected by a special sensor that ensures even cooking of food without the risk of exposing it to potentially damaging thermal shocks.
Food is cooked in total autonomy and the machine stops automatically if there is a lack of water.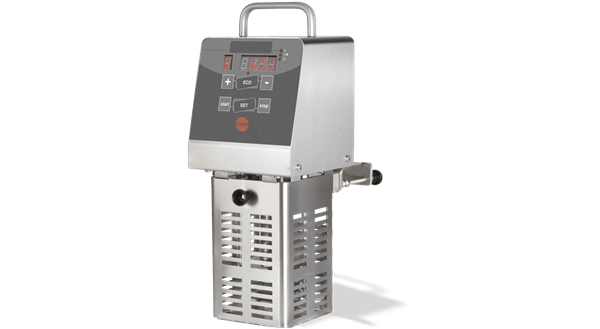 Find out more about our vacuum countertop packing machines
Models of wheeled vacuum sealers for restaurants
A wheeled vacuum sealer for restaurants is another type of chamber packaging machine, but unlike the countertop models, the dimensions are larger and, thanks to the presence of wheels, the sealer can be moved wherever you want.
These packing machines are perfect for caterers and large restaurants and have programmes for marinating and sous-vide cooking.
MVS50 XP
The vacuum sealer for restaurants MVS50 XP is equipped with a 510 mm sealing bar and is able to keep track of the packaging process. In addition, with a practical display and control panel, this packing machine is particularly smart and user-friendly. As part of the XP restaurant vacuum sealer series, the MVS50 XP is CE/ETL/NSF certified.
MVS52 XP
The vacuum sealer for restaurants MVS52 XP has a 530 mm sealing bar and, thanks to its high level of technology, not only allows all the desired activities to be programmed via the display, but also enables all the necessary service work to be programmed. As with previous models, this machine allows the packaging path to be traced and information labels to be printed.
Find out more about our wheeled vacuum packing machines
The features of a vacuum sealer for restaurants
Let us briefly summarise all the features of a good vacuum sealer for restaurants:
it is practical and easy to use;
it is capable of perfectly packaging food products of all sizes and consistencies. The special feature of a vacuum packaging machine is in fact its ability to package even liquid products such as sauces, gravies and condiments without the risk of vacuuming the product;
it is equipped with safety system boards to prevent the sealing bars from overheating;
it has all the necessary certifications to guarantee a high quality of performance.
Need help finding the right vacuum sealer for restaurants for you?