The food packaging machines of our range are divided into:
Vacuum-sealing machines
Vacuum-sealing machines are among the most commonly used machines for food packaging. They are ideal for all products intended to have a long shelf life, as they allow for optimal storage with no oxygen and inside resistant and appealing packaging.
Recommended machines:
MVS31X: worktop hood vacuum-sealing machine, compact, with an excellent design and a practical front control display to access 10 storable programs. Also available with an inert gas filling kit.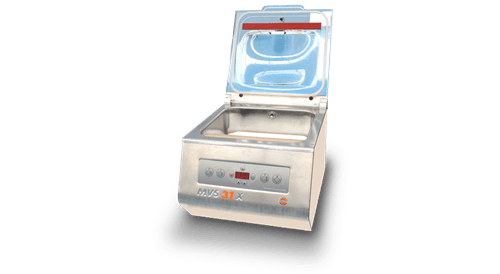 MVS45X: trolley hood vacuum-sealing machine, easy to use and functional, as it can be easily wheeled between workstations. Made of stainless steel and fitted with an electronic sensor to calculate the level of vacuum reached in the chamber.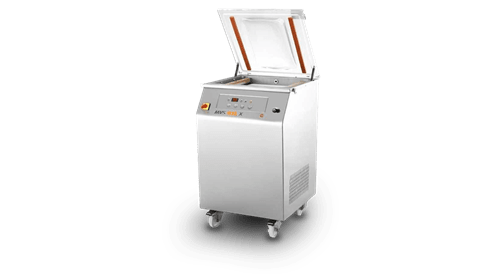 Find out more about our vacuum packing machines
Heat-shrink packaging machines
Heat-shrink film is in greater demand where products are exposed directly in contact with users on shop shelves: fruit, vegetables, fresh or processed meat, trays of biscuits, tubs, etc.
Recommended machines:
PRATIKA 55 SMART: automatic heat-shrink machine, ultra-compact also thanks to its built-in tunnel. Plus, with its come-back option for a single operator it also reduces labour costs.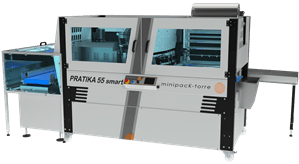 MODULAR 50 + TUNNEL 50: semi-automatic angular heat-shrink machine. This is a machine that provides excellent flexibility in terms of applications and top quality results at a reasonable price. The aesthetic result of the packaging is excellent, as is its efficiency. To be used in combination with Tunnel 50, the heat-shrink oven that lets you set up to 9 customisable programs.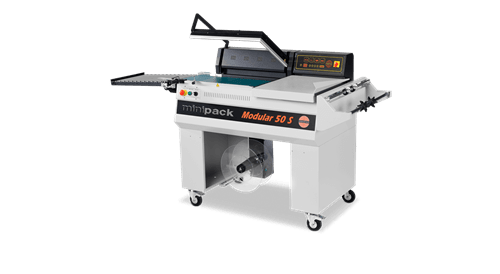 PRATIKA X2: automatic heat-shrink packaging machine with double hatch to be able to work on both sides. Reliable, versatile, safe, high-tech, whilst being definitely user-friendly.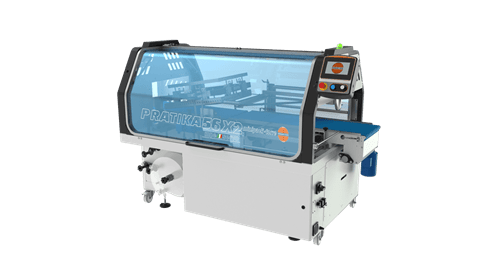 Learn more about our heat-shrink packaging machines
Sleeve wrappers
Sleeve wrapping machines are food packaging machines that can create "bundles", that is multipacks like the ones for water bottles, glass bottles, canned food and jars. The film used is thicker than vacuum-sealing or heat-shrink film, which is why it is far more resistant.
Recommended machines:
MS 70: semi-automatic sleeve wrapper with pusher, with a sturdy single-unit frame, versatile, efficient and extremely safe thanks to the photocell that blocks the sealing bar when there is an obstacle in the way.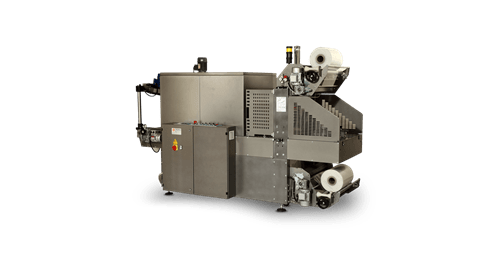 MS 70 AL: automatic sleeve wrapper with double motorised belt (before and after the sealing bar) and built-in tunnel. Perfect to be integrated into the production line, thanks to the automatic management of incoming and outgoing exchange signals.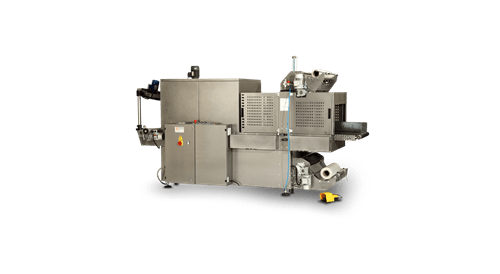 MS 70/1: automatic sleeve wrapper with a 90° single-lane loading belt. Compared to the other machines, it can group together and pack small loose products with different types of films.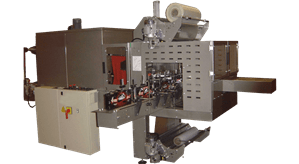 Find out more about our sleeve wrapper machines
Flowpack packaging machines
Flowpacks are extremely flexible horizontal packaging machines. They produce a package with a very familiar shape: pillow-shaped packaging with three seals (two horizontal ones, a vertical one in the middle), and are very often used to wrap individual products and single doses: croissants, snacks, crackers, breadsticks, chocolate bars, sweets, chocolates and much more.
Recommended machines:
Miniflow 400 EVO: fully electronic flowpack packaging machine, with 3 brushless motors and a 7'' colour touch screen panel. It packs up to 100 products (180 mm max) per minute.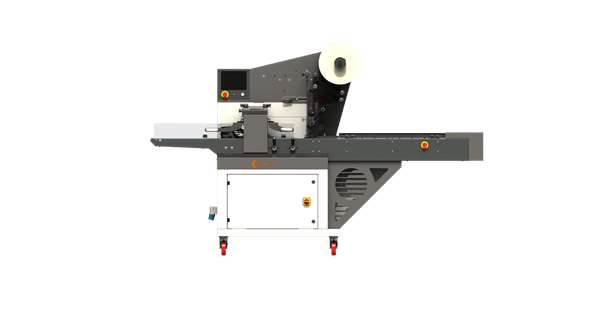 Miniflow 600: fully electronic flowpack packaging machine, ultra-versatile in format changeovers and extremely easy to use. It can pack up to 120 products (600 mm max) per minute.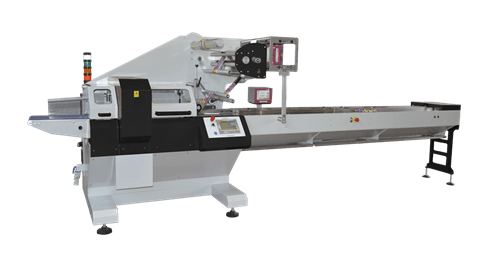 Bagging machines
Vertical bagging machines are the perfect solution for those who need to bag quickly and easily small amounts of fresh food, like bakery products, fruit and vegetables.
Recommended machines:
X-BAG EVO: vertical bagging machine controlled with PLC panel and touch screen. It can work continuously or jog, and makes different types of hermetically sealed packages, in various sizes and with different types of films. With its compact design it can be placed anywhere, even in the smallest of workplaces.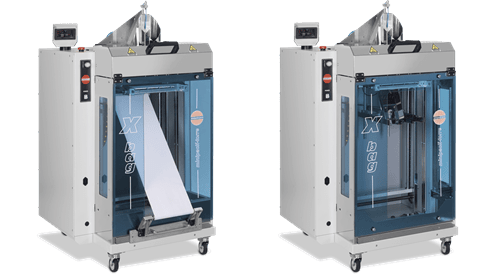 Find out more about our flowpack packing machines
Why choose minipack®-torre?
Minipack®-torre has been manufacturing packaging machines since 1969 and in all these years it has acquired more and more expertise and experience in the sector, especially with regard to food packaging machines.
In fact, these packaging machines have been designed and produced so as to ensure total reliability and safety, in addition to all the properties of the packed food being perfectly maintained.
Furthermore, minipack®-torre:
manufactures quality packaging machines, using materials such as AISI 304 stainless steel, which is impeccable from a qualitative aspect;
has obtained CE certification, as the safety standards are all strictly complied with, with particular attention paid to industrial automation processes and energy saving;
boasts a significant presence in the territory, both nationally and internationally, with 3 partnerships in France, the United Kingdom and the USA, 85 retailers distributed abroad and 25 in Italy;
offers an extremely efficient after-sales service thanks to its international profile, and excellent remote technical assistance, so as to be constantly available in case of emergencies;
believes and invests in Research & Development; in fact, it has an in-house technical department called "minipack®-LAB", which dedicates itself to studying new technologies every day in order to improve and offer increasingly quality performance.
Not sure which food packaging machine is best suited for your product? Use our homepage feature to find the perfect packaging machine!